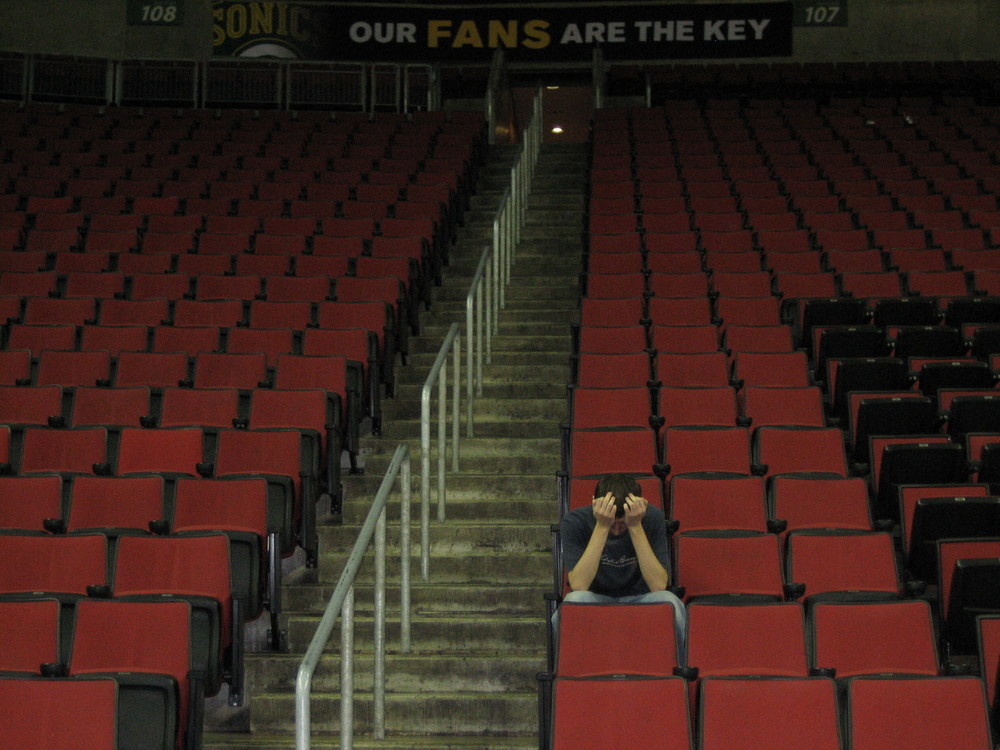 I hover above the struggling bodies.
They crawl, one arm in front of the other, across the barren desert. There is nothing on the horizon, no structures, no trees, no sign of hope. Just empty miles of sand.
I watch them from above, hungry, waiting for my chance to swoop down and devour the carrion. I can smell the meat, I can picture the feast.
But they keep crawling, and I keep circling.
One seems to slip behind the pack. He looks exhausted, like there's no point in moving any longer. He's tired, he's going to lay down.
But a short man in a suit helps him up with a wry eye toward the sky.
I am a basketball vulture.
In 2008, when Clay Bennett and Co. ripped the collective heart out of the city of Seattle by stealing our NBA franchise, the Seattle SuperSonics, I watched every minute of it happen. I was witness to one of the most despicable acts in sports history. This was no fight in the stands, it was no post-game riot, it was the disembowelment of a city's soul. I heard the Save Our Sonics chants, I saw the rallies and the picket boards. I read Sherman Alexie, the great poet and author, as he begged and pleaded for the team to stay, for the city to help, for anyone to stop this dumbfounding madness that was happening in front of our eyes and outside of our control.
I wept the day the team left, listening to the radio in disbelief like I was listening to a phone call that a close relative had passed away.
I watch my team, MY TEAM, play in different colored uniforms, with different names, different fans, different faces. They don't look like the same players I knew, they look haunted by their forced hands. I scowl at the name as it flashes on TV or my computer screen. I cringe when I sift through box scores and see they've won. But I'm tired now, I've given up hope that my Seattle Sonics will ever come back to town.
And so I wait.
The NBA is in full swing now. LeBron is dancing. Oden is injured. Artest is drunk and falling down a flight of stairs.
But it's not my NBA anymore. I'm still drifting in thermals above the fray. I don't want to be here, I don't want to be looking for a meal, but I'm starved, deprived, hurt and vengeful. I want to sink my teeth into an unfortunate carcass as the last breath leaves the body. I'm talking about you, Sacramento. You too, New Orleans.
And yet, I see the bodies struggling, financial disasters so dramatic David Stern had to loan out millions upon millions to his own teams to keep them from falling dead in the sand, and I start to lose my appetite. I don't want that meat. It's tainted, it's cannibalistic. I don't want to become the very thing that I loathe. I don't want to succumb to the very thing that destroyed basketball in Seattle. If another team fails and we reap the benefits, I simply become the man in the desert and another fan, another city, becomes the vulture. The NBA shouldn't be so karmic.
But what am I supposed to do? Every loss, every injury, every mistake in the front office from one of the failing franchises feels like a glimmer of hope. I start to descend, slowly, in a wide, mile-long circle. I feel so light, I can smell the meat from here. But that man in the suit reappears, "Have some water," he says.
I'm torn. The fans of those other cities don't deserve what happened to us. I see little kids wearing Sonics jerseys on the street, knowing they'll never get to watch another Sonics game at the Key. I see little kids with vintage Payton and Kemp jerseys. They weren't there for the glory years, but through the jersey alone, they get to somehow be a part of it. They get to extend into the past, and the past gets to extend into the present.
But our present is gone. We just have the past. We have memories and images and players and names. We have shared joy and shared defeat. We all have that, as a city, collectively. There is a void here now, an emptiness in the winter that no one wants to talk about. The NBA is a four-letter word, as it should be, but we still miss pro basketball.
Every fan in this city still has that hope, the hope that one day the NBA will return to Seattle. And so we hover above the bodies, the water-starved souls, conflicted but desperate, hoping that a body will finally drop, succumb to the harsh environment. Will the man in the suit ever let it happen? I don't know. Do we even want it to happen? I don't think so. But we're out of options, league expansion will never happen under Stern's watch. League contraction won't either. We are simply stuck, stuck in the clouds looking down, waiting ... waiting.
I am a basketball vulture; perhaps I'm always meant to be one.